2018 California Escrow Association SoCal Conference Recap
November 01, 2018
Event
We are proud to have exhibited once again at the 63rd annual California Escrow Association Conference, United We Stand, hosted at the Anaheim Marriott October 11-13.
The conference featured outgoing President Debi Faber installing incoming President Juliana Tu and the new 2019 officers. It also marked the final Legislative Update from California Advocates' Lexi Howard, who is moving on to new challenges, but will always be remembered for her articulate and insightful Capitol updates with Mike Belote. We even got to sing and party with Tara White and the karaoke crew Friday night!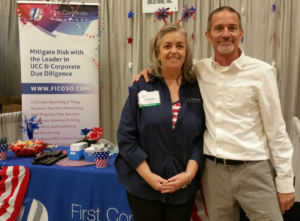 FCS' Escrow Compliance Manager, Pamela Putnam, a 30+ year industry veteran and FCS cornerstone, tabled the event with Vice President of Strategic Relations, Chris Cerruti, offering information on our products and services that support Bulk Sale Escrow Officers, including UCC search packages, UCC filing, title search and UCC recording and publishing.
The educational sessions were informative and lively led by highly connected and informed speakers who shared their real time insights from topics ranging from economic forecasts to escrows involving cannabis proceeds.
As a long-time partner to California's Bulk Sale Escrow Officers we look forward to supporting them and the CEA Conference in the future for the opportunity to reconnect with old friends and make new ones.
Do you handle bulk sales in California? Contact us today and learn how our one-stop shop can help you with all of your searching, filing and publishing needs.
*Disclaimer