Mitigate Risk with Global UCC & Corporate Due Diligence
Online UCC System I Corporate | Registered Agent I Title
Accurate, Timely and Cost Effective Due Diligence Solutions
Online UCC Searching, Filing and Monitoring System
First Corporate Solutions' online lien searching, filing and monitoring system provides the tools you need to perfect and maintain your security interests
Learn More
UCC and Corporate Risk Management Solutions Customized To Your Specific Business Needs
Personalized Customer Service with a Dedicated Account Manager
First Corporate Solutions understands the importance of personalized customer service. That is why we assign a Dedicated Account Manager to each and every client we serve, someone who is uniquely familiar with your industry and can respond to your individual needs without the hassle of an automated system.
Contact Our Account Service Team
Online UCC Searching, Filing, Monitoring & Portfolio Management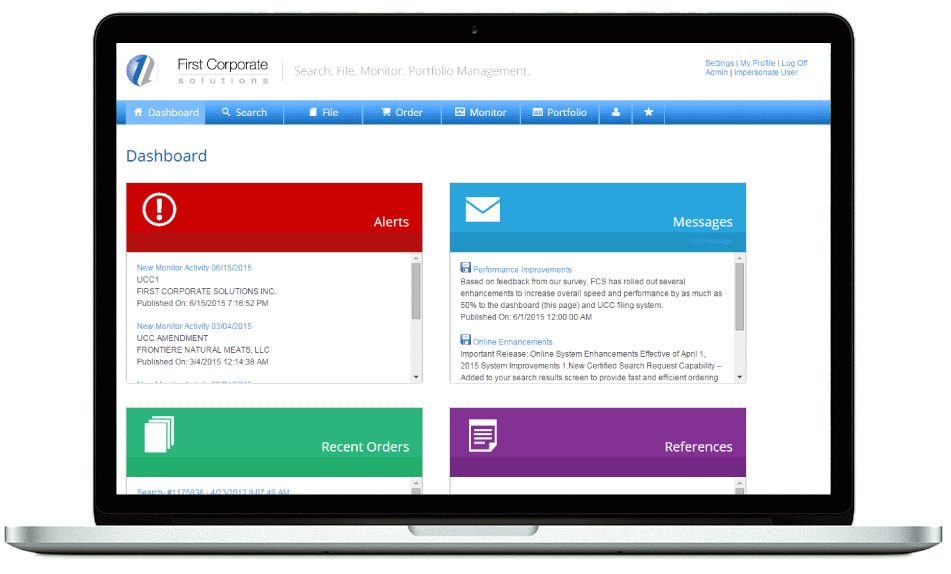 First Corporate Solutions' new online system for UCC filing & portfolio management, lien searching and account monitoring provides the tools you need to perfect and maintain your security interests with ease. Our system simplifies your daily processes,
making it virtually effortless to perform searches, prepare and submit UCC filings, track those filings to alert you of impending lapses, manage account monitoring activities and more, all in one central location.
Why Choose First Corporate Solutions?
Top 10 Reasons to Select First Corporate Solutions As Your Risk Management Partner
Rely on Personalized Customer Service with a Dedicated Account Manager
No matter if you're a Fortune 500 financial institution or a small business owner, we assign a dedicated account manager to your business. You have someone to listen and respond to your needs, without the hassle of an automated phone system.
Depend on our Experienced and Knowledgeable Staff
With over 20 years of company history and literally millions of searches provided on behalf of our clients, you can rest assured that when you partner with us, you're partnering with the best in the business.
Enjoy Competitive Pricing with No Email and Hidden Fees
At First Corporate Solutions, we partner with our clients. It's a relationship built on trust. That's why we offer competitive pricing with no fax fees, no email fees, no rush fees and no hidden fees whatsoever.
Sort and Filter Your Search Results For The Accuracy You Demand
Our detailed search system allows you to dig deeper on your UCC search results for a more precise picture. Use our unique filters to extract exactly what you're looking for, all free of charge.
Manage and Mitigate Your Risk With UCC and Tax Lien Account Monitoring Programs
Services that provide lien monitoring searches at only the State level are only giving a fraction of the information you need to properly manage and mitigate your risk. First Corporate Solutions' innovative and comprehensive UCC and Tax Lien Account Monitoring programs keep an eye on your account with both state AND county level searches, meaning you'll never miss a Federal tax lien or other lien type again.
Download UCC Images Instantly To Save Time and Ease Portfolio Management
Our vast image library allows instant downloads of clear and legible images directly to your desktop.
Experience Our Broad Based Search Logic to Optimize Your Online Search Accuracy
Our online search system is specifically designed to give you precisely what you're searching for. Use our unique "wildcard" and other filtering features to further enhance your searching capabilities, getting you the information you need when you need it, for your peace of mind.
Eliminate Delay with Quick Turnaround Times
First Corporate Solutions offers same day turnaround for Delaware Secretary of State documents with no rush fees. Why pay high prices and then wait? Contact First Corporate Solutions and begin streamlining your processes today in the key state of Delaware.
Simplify UCC Management with Online UCC Portfolio Manager and e-Filing Solutions
Use First Corporate Solutions' intuitive UCC portfolio management tool to prepare, edit, file and track your UCCs, all for one low fee. Not only does the wizard guide you through preparation seamlessly, the filing system also includes a quality review process with human eyes. E-file in any state where it's available and enjoy immediate confirmation, fewer rejections and significant savings.
Take Advantage of our High Quality Online Data to Support Your Lending Decisions
At First Corporate Solutions, we work diligently to assure our data and images provide clear and accurate search results. Our IT team prides itself on the accuracy and clarity of our data by managing and monitoring our search databases on a daily basis.