CEA Bulk Sale Seminar a Virtual Success
Events & Tradeshows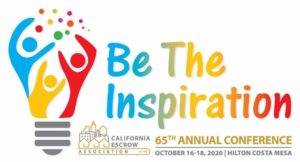 The California Escrow Association (CEA) is once again leading the way.
Originally scheduled to be a one-day conference in Costa Mesa back in March, the California Escrow Association's Annual Bulk Sale Seminar was called off because of COVID-19. But instead of canceling the event altogether, the CEA simply pivoted on today's new realities and reschedule the event as a virtual conference.
And what a success it has been, once again proudly sponsored by First Corporate Solutions (FCS).
The vision of the CEA is to empower and support escrow settlement agents through a commitment to professional and personal growth. As a testament to their focus on education, when the obstacle of COVID-19 appeared, they figured out how to effectively operate anyway to educate their members and continue to fulfill their mission.
Debbi Faber, an escrow officer and leader in CEA forever and the perennial Bulk Sale Conference hostess, led the reorganizing effort, spreading the content into three separate 2-hour zoom meetings over the course of successive Saturdays.
With a power lineup of industry experts leading discussions with a room full of Bulk Sale experts, the interaction and learning pace has been lively and productive with broad participation.
The virtual platform has allowed all of the knowledge and experience held by these experts to flow freely between themselves and also to the new and inexperienced. The chat feature lets participants comment and ask questions in real-time while not interrupting the speakers or discussions, providing a new window into communicating and a helpful tool to deeper understanding.
Pam Putnam, FCS' Escrow Compliance Manager, led the discussion on bulk sale searching, publishing and filing, providing insights on the ins and outs of those specific aspects of the bulk sale process. But again, because of impacts from COVID-19, there was more than just the normal information to share, and the virtual platform again was a benefit.
More information shared more freely and in real-time.
That's what happened at the CEA Annual Bulk Sale Seminar when it went virtual. Face to face meetings and conferences have incredible value still, but the landscape has changed and favors the adaptable. The CEA is adapting, so are escrow officers, so is FCS.
At the CEA Annual Bulk Sale Seminar, it all came together.
*Disclaimer