First Corporate Solutions Celebrates 30 Year Anniversary
Events & Tradeshows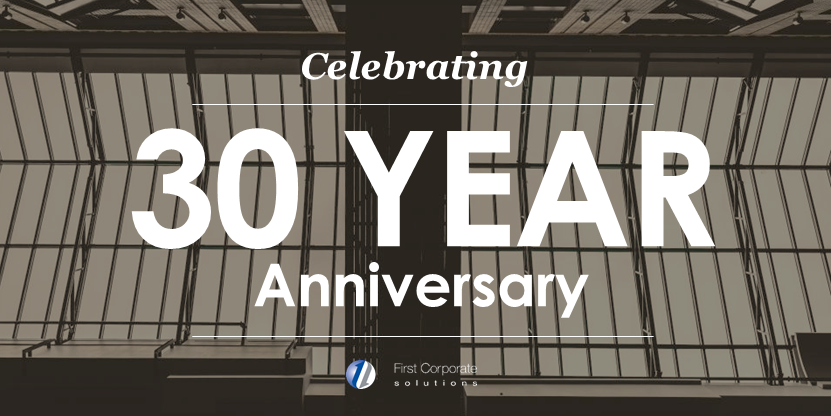 We're proud to be celebrating the 30-year anniversary of First Corporate Solutions (FCS), leading provider of risk mitigation due diligence solutions to legal and financial communities.
FCS began operations in 1987 when David Silverburg, the company's founder and CEO, created Bay Area Courthouse Services (BACS) to capitalize on an opportunity he saw to better serve the public record documentation needs in his home area. While researching microfiche and paper records, he saw the impact that technology would have and the imminent changes the digital revolution would bring to the public records industry.
He began investing in online technology. An initial version of our web based UCC Portfolio Manager soon followed, beginning the digital evolution of FCS represented today in our JSON RESTful application programming interfaces (API)  for public records transactions.
BACS grew to Pacific Corporate & Title Services (PCTS), and tailored solutions for bulk sale Escrow Officers in California opened the door to our long standing partnership with the people of that industry, highlighted by our combined efforts with the California Escrow Association and others to defeat California Senate Bill 12 back in 2012.
The creation of the original nationwide Account Monitoring Program, designed to promptly inform secured parties of federal tax lien filings on their debtors at both the state and county level, along with the opening of our office in Dover, DE and the introduction of our nationwide web-based UCC Portfolio Manager, helped catapult PCTS into nationwide service coverage.
It also launched PCTS into the Asset Based Lending and Factoring communities, for which we are a proud preferred vendor, and into becoming First Corporate Solutions.
Most recently, our JSON RESTful application programming interfaces (API)  for public records transactions continues the vision, simplifying workflow by connecting your business line software directly to reliable, fast and accurate public record search, file and monitoring solutions. You can protect your client list in the public record with Secured Party Representative Service. And our newly launched Legal Services Division, providing expert customer support for corporate compliance and registered agent services, helps punctuate our 30-year evolution.
With offices coast to coast in Sacramento CA, Dover DE and Santa Fe Springs CA, we invite you to celebrate our 30 year anniversary and to visit us at www.ficoso.com or contact us to learn more.
*Disclaimer