First Corporate Solutions Names Samuel Hon Chief Executive Officer
Events & Tradeshows
SACRAMENTO, CA – June 6th 2019 – David Silverburg, the Founder of First Corporate Solutions, Inc. (FCS), recently announced the appointment of Samuel Hon as Chief Executive Officer. With this transition, David will become the FCS Board Chairman, which entails providing the company with fiduciary guidance and consultation.
In his announcement, David said, "Samuel has exemplified excellent leadership, and has illustrated a thoughtful business acumen that has propelled the company to accomplish its strategic goals and growth initiatives. I am confident in Samuel's specialized knowledge, skills and abilities and look forward to the company's positive future."
Having joined FCS in 2004 and progressively advancing his career through 7 promotions to his appointment as President, Samuel made the search for a new CEO easy.
Samuel was promoted to President two years ago to drive market share and revenue growth through culture transformation. He oversaw the company across all functions including finance, technology, product management, sales, marketing and operations. Since this appointment, FCS has been unified by a new shared vision, guiding principles and corporate goals resulting in the achievement of the highest revenue and EBITDA growth in the company's history.
Previously, Samuel was the Chief Marketing Officer responsible for marketing operations, sales management and corporate development. Before that, he served as a key advisor to the CEO on business strategy and business management as the Vice President of Corporate Development and Marketing, launching two data and technology subsidiaries and overseeing the company's rebranding and digital marketing initiatives.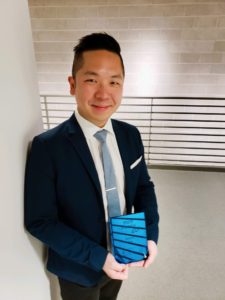 Named Sacramento Business Journal "40 Under 40" and American Advertising Federation Sacramento (AAF) – Ad Person of the Year. Samuel served two terms as President of the 107-year old AAF and achieved a national award on achieving one of the highest ADDY growth chapters in the country.
Samuel holds a BS with honors and distinction in Strategic Communication from the University of Wisconsin – Madison. He is a Stanford Certified Project Manager, Pragmatic Marketing Certified (PMC-III), Net Promoter Certified Associate and Berkeley Certified Executive Coach with training and executive coaching experience in Italy. Samuel has also completed Executive Education programs in financial analysis, marketing management and leadership at Harvard Business School, Stanford University and UC Berkeley.
About First Corporate Solutions, Inc.
Founded in 1987, First Corporate Solutions is a service, data and web application company providing global UCC & corporate due diligence and risk management solutions. Our services and online searching, filing and portfolio management system are designed to help Fortune 500 lending and legal institutions mitigate risk and perfect secured transactions.
www.ficoso.com | 914 S Street, Sacramento CA, 95811 | 800.406.1577
*Disclaimer