Recap: Commercial Finance Association Annual Convention in New York City
Events & Tradeshows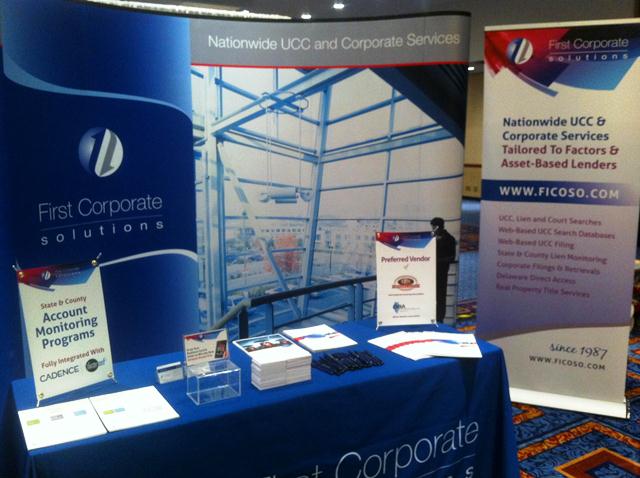 First Corporate Solutions (FCS) exhibited at the 67th Annual Commercial Finance Association Convention in New York City earlier this month.
The Commercial Finance Association (CFA) is an international trade association serving the asset-based lending and factoring communities. The Annual Convention is the premier event for the CFA, providing networking opportunities, educational sessions and inspirational speakers for its members. Highlights of this year's event included an educational session on the future of factoring, an alternative financing forum, a seminar covering the benefits of financial advisor marketing, a panel discussion on international asset-based lending, and an address by keynote speaker, Dr. Robert M. Gates, former U.S. Secretary of Defense. The event was a huge success..
FCS has a long-standing relationship with the CFA as a leading provider of UCC and corporate due diligence solutions to commercial lenders, including FCS' innovative state and county Account Monitoring program designed specifically to mitigate risk for factors and asset-based lenders.
Our partnership expanded in 2010 when First Corporate Solutions began presenting educational webinars on due diligence related topics for CFA members. To date, First Corporate Solutions has delivered several webinars on topics including UCC filing mistakes, effective lien searching and reducing due diligence costs.
Conference attendees were impressed with the First Corporate Solutions portfolio of services, particularly our State and County Account Monitoring Program integrated with CADENCE|FactorSoft. We had a great time at the show and enjoyed reconnecting with those of you we know and meeting many of your for the first time.
First Corporate Solutions asked attendees to visit their booth to enter to win a drawing to win a new Amazon Kindle Fire. We are pleased to announce the winner here on our blog – Congratulations Deborah Monosson of Boston Financial & Equity Corporation, your Amazon Kindle Fire is on its way!
*Disclaimer