Online UCC and Lien System Upgrade: First Corporate Solutions Releases Indiana Online UCC Search Database with Document Images
UCC, Services / System Update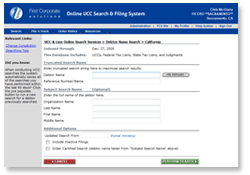 We are pleased to announce that we have released Indiana to our online search system.
Active users can log on now to www.ficoso.com and search our reliable state-direct Indiana data complemented by an expansive library of clear, downloadable document images.
Utilize our broad-based search engine to locate liens by debtor name or file number, then use our unique sorting and filtering features to create a customized search result, tailor made for your specific transaction. Online search history is saved for a period of 90 days for quick access to completed searches and associated images.
For more information, check out the following blog posts and explore the benefits of using an online UCC & lien search system:
Broad Based Name Searching: What is it? Why is it Important?
Why Name Variations Matter in UCC Searching
Not an FCS online user?
Find out more about our UCC Online Search System
Call or email today to schedule a free online demo! 800.406.1577 | info@ficoso.com
*Disclaimer